Adrenal Fatigue Doctor Reviews
Are you looking for a doctor who treats adrenal fatigue?

Do you have
 a doctor who treats adrenal fatigue?
Look through or add to our adrenal fatigue doctor reviews to find a doctor that treats adrenal fatigue, or share with us about a great doctor you've been working with.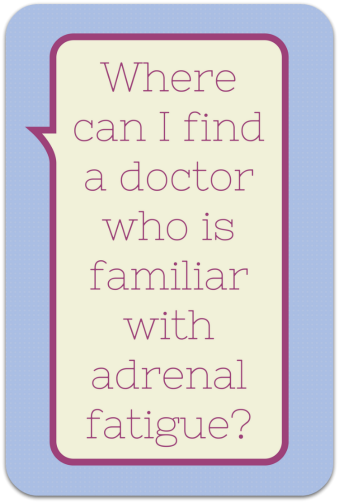 Many of the visitors to this website are looking for a doctor that treats adrenal fatigue. I know from experience, they are not easy to find! And I am only one person, living in one location, so I have no way of knowing the best adrenal fatigue doctors across the country, much less around the world! So I offer this place for you to share any information you may have about adrenal fatigue doctors.  Ask others about doctors in your area, or TELL others about your doctor!

Tell us as much as you can about your experience with your doctor:
How long did it take you to get in as a new patient?
Does he take insurance?
Is he a traditional endocrinologist, MD, ND, or alternative health-care provider?
Did you feel like you had his undivided attention and he was genuinely interested in you, or did you get the feeling he was trying to get you in-n-out as quickly as possible?
Were you happy with the way you were listened to?
Was he open to your input?
How would you rate him on "patient education"?
Did he explain things well?
Did he address the whole spectrum of treating adrenal fatigue, including stress reduction and lifestyle issues, or did he just write a prescription and tell you to take it and you'll be cured?
Have you had a negative experience with a particular doctor?  That information can be helpful to others too, but please remember to be respectful even in your criticism. Remember that you are sharing YOUR PERSPECTIVE of the experience and refrain from commentary that could be considered slanderous. Expressing frustration with someone is fine, but venomous hostility will not be published.

Read visitor-submitted adrenal fatigue doctor reviews here.
---
Write a Doctor Review
Don't forget to include any contact information you may have for this doctor: address, phone, and especially website!

Please start your subject line with the geographic location (city, state/country) of your doctor or your search, so that it will be easier for others from the same area to respond.


Reader Submitted Adrenal Fatigue Doctor Reviews
Click below to see contributions from other visitors to this page...

Doctor reviews shared on this website are the opinions of the visitors who contribute them, and are not endorsements from AdrenalFatigueRecovery.com. Readers must do their own "due diligence" when selecting a doctor to treat adrenal fatigue or any other condition. These reviews are merely provided for information-gathering purposes. 
return to top of doctor reviews list