Top Adrenal Fatigue Supplements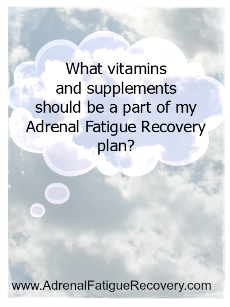 When treating adrenal fatigue, supplements play an important part in your treatment plan. What are the top vitamins and supplements you should be taking for adrenal support? 
 Direct Adrenal Support Supplements
There are two different types of adrenal supplements typically used in treating adrenal fatigue--Adrenal Glandulars and Cortisol Supplements. 
An adrenal cortical extract, or 

adrenal glandular

 , is one of the most important supplements for poor adrenal function. Adrenal glandulars are made of adrenal cortex tissue from animal sources, and will provide actual adrenal cells and nutrients to support adrenal glands as they rebuild themselves. 
Adrenal Fatigue Supplement Reviews


Adrenal Support Vitamin Supplements
In addition to an adrenal supplement, there are some general vitamin supplements that are essential for improving poor adrenal function. 
All 

multivitamins are NOT alike, so you need to be very particular about choosing a brand of multi vitamin. One of THE BEST multi vitamins on the market is the Super Adrenal Stress Formula created by Dr. Wilson especially for people suffering from adrenal fatigue.
Vitamin C

 

is essential to the production of adrenal hormones, and is used up very quickly by the body when it is under stress, so adequate vitamin C supplementation is vital to improving adrenal function. 
Magnesium

 

is another essential supplement for producing adrenal hormones, and is almost always a deficiency when you have adrenal fatigue. Magnesium is known to help you sleep better, alleviate heart palpitations, and relieve the cramping during your menstrual cycle. 
GABA

, while not directly affecting your adrenal glands, can be a valuable part of your adrenal fatigue recovery. This amino acid helps to reduce anxiety and what I call "swirly brain"-- that feeling that you can't focus on any one thing because there's so much going on in your head. Great at bedtime too, when you just can't "turn your brain off". 

True Calm

 is a product that contains GABA, as well as other complimentary ingredients that many people find works better than GABA alone.
One of the most popular adrenal support/vitamin supplements for adrenal fatigue is a complete program of adrenal fatigue supplements designed by Dr. James Wilson, author of Adrenal Fatigue: The 21st Century Stress Syndrome. This program consists of an adrenal glandular, a multivitamin, and a vitamin C supplement. There is also an herbal adrenal support formula. Dr. Wilson recommends you take a magnesium supplement in addition to this program, but does not manufacture one of his own.
I consider this program to be one of the top adrenal fatigue supplements on the market today, and heartily recommend it. Starting this supplement program was a turning point in my own recovery.
Dr. Wilson's Adrenal Rebuilder, Adrenal-C, and 
Have you used Dr. Wilson's program, or any other supplements for your adrenal fatigue? Read visitor-submitted reviews of the adrenal fatigue supplements recommended on this site, or contribute your own comments! 
Adrenal Fatigue Supplement Reviews
Read Next: